Love is Always in Season at Danada House
Up to 250 Guests
Choose a Caterer from Our List
Outdoor & Indoor Space
LGBTQ-Friendly
Congratulations on your engagement!  We're honored that you're considering Danada House for your wedding celebration.
We're located in Wheaton, Illinois.  It's a short distance from Chicago, but miles apart from a cityscape.  We offer brides, grooms, and up to 250 guests a beautiful historic mansion, an all-weather atrium, several outdoor spaces, and natural charm, all nestled in the heart of the DuPage County Forest Preserve District.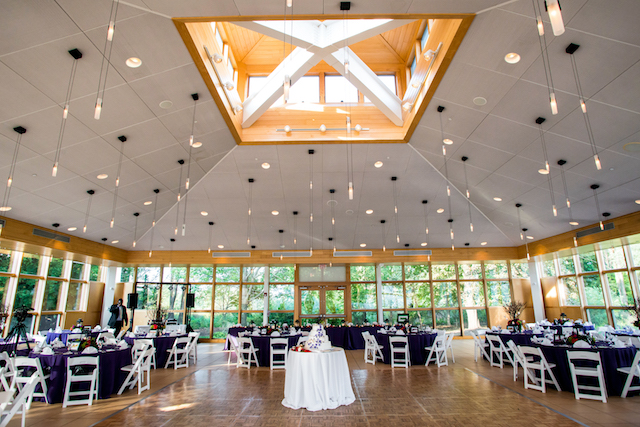 "We were impressed with Jill at Danada House from the start. Her willingness to work with our wishes for the wedding, her professionalism, and her knowledge of the banquet experience were unsurpassed and sold us on Danada House for our daughter and her husband's wedding location. The bridal party enjoyed preparing for the wedding inside the lovely home. Outdoors we were surrounded with spectacular photo options. The beauty of the building and the grounds added much to the splendor of the evening. The wedding and reception took our breath away. The flexibility of Danada House also made it possible to have the feeling of an outdoor wedding inside a well air conditioned atrium on a 96 degree day. Kathy and Lori were of great assistance in making the rehearsal and the wedding day run smoothly."
Debbie, via a Facebook Review
Seven Ceremony Locations
Our Formal Garden is on the west side of the estate, and features two options for seating arrangements, either under the arbor or facing the house.
Capacity: 250
The Magnolia Garden is on the southwest side of the estate, with a view of flower garden.  It's especially beautiful when spring is coming and the Magnolia trees are blooming.
Capacity: 300
The Oak Garden is on the east side of the estate, and lets you enjoy your ceremony between the majestic oak trees.
Capacity: 175
The Rose Garden is on the northeast side of the estate, in the sunshine facing the labyrinth.
Capacity: 250
Saddleup is on the east side of the estate, and features an intimate space near the Rice stables.
Capacity: 100
You can also have your ceremony at the front of the house, facing the door with a beautiful view of the mansion.
Capacity: 150
For colder months, and in the event of inclement weather, we host ceremonies in the atrium.
Capacity: 250
Indoor and Outdoor Cocktail Hour Options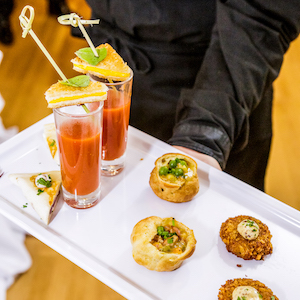 We have two choices available for your cocktail hour: outside our on our patio, or inside Danada House.
Invite your guests to enjoy appetizers and drinks on the patio while they enjoy the natural beauty of the surrounding forest preserve, or host them in the comfort of house before they are led into the Atrium for the reception.
Celebrate with Your Loved Ones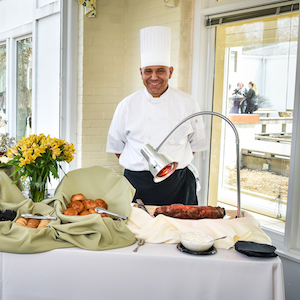 Eat & Drink
From formal cuisine and specialty cocktails to beer and barbecue, select a caterer that fits your personality and your wedding style.  Work with our staff to select one that brings your vision to life, and create a dining experience that you and your guests will love.
Party
Dance and celebrate with your guests in our all-weather atrium, featuring three walls of floor to ceiling windows and elegant lighting.  The layout puts your party right in the middle of a stunning view of the Danada Estate and the DuPage County Forest Preserve.

Remember
Locals and out-of-town guests alike are truly impressed when they visit Danada House.  We're in Wheaton, but we're tucked away from the everyday.  With gorgeous photo locations, a restored mansion setting, and the surrounding Forest Preserve, you and your loved ones will create beautiful wedding memories.
Additional Amenities
During your rental of the property, you and your wedding party can make use of our bridal suite.  Featuring vintage furniture and a charming restored mansion feel, you can relax and take photos before celebrations get underway.
Our parking lot can accommodate up to 150 vehicles, with convenient access to the mansion and atrium.
Out-of-town guests can also make arrangements to stay at a number of nearby hotels, all within five miles of Danada House.  You can work with most to arrange group rates and other amenities for your friends and family.
Our experienced staff is available from booking through the day of your wedding to ensure that you are satisfied with your experience at Danada House.  We also have contacts throughout the local wedding industry, and will furnish lists of pre-approved caterers and preferred vendors to simplify your planning process.
Host Your Wedding at Danada House
Check Availability for Your Wedding Date at Danada House
Note: Weddings can be booked up to 24 months in advance.  Popular seasons fill most quickly; please contact us early to check availability.  Our staff will work with you to ensure that your wedding runs smoothly and fits your vision. See our rental rates and policies, and contact us.
"Thanks again for a wonderful wedding for our daughter at your facilities. I cannot stop smiling as it was a gorgeous wedding. Our family is raving and thought it was the best wedding that they have ever been to in our entire family. The outside rainbow that evening really was special as well!!"
Cindy H.
"The Danada House is a beautiful venue, and its staff was unbelievably accommodating and enthusiastic when it came to helping us plan our big day. We used this venue for both our ceremony and reception on a snowy Saturday in January, and can't imagine a more beautiful setting to have exchanged our vows. Thank you, Danada House, for a wonderful day!"
Emily, on WeddingWire
"Beautiful venue. Great staff. Lots of flexibility and room for creativity. Our guests are still raving about the location. Many beautiful ceremony location choices to fit your personality."
a WeddingWire Review
"Came here for a fall wedding. … This place is absolutely breathtakingly gorgeous. Out of all the weddings I have been in this has been the best venue to date. I'm thinking about coming here for my future wedding it was that amazing."
Lauren, on Yelp